Immersive Labs
Stand: C35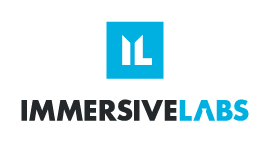 About Immersive Labs
We are the cyber workforce optimization experts. We equip, exercise and evidence the human cyber abilities of entire workforces, preparing organisations to counter the latest cyber threats.
Our game-changing platform transforms the way people learn by continuously analyzing and enhancing their capabilities, engaging their curiosity and unleashing their potential with content informed by real-world events and threats.
What it's like to work at Immersive Labs
Immersive Labs was founded in 2017, from a cargo container in Bristol, UK Since then we've grown to over 300 employees globally and announced funding of more than $120 million.
Our success would not be possible without the collaboration and determination of our amazing global teams. We will forever ensure the people who choose to be with Immersive Labs are provided with every opportunity to enjoy and be rewarded by their work.
It's our mission to create a progressive, open and productive workplace where we can be our authentic selves.
We believe that our values of inclusivity, agility and drive will help us get the job done and create an environment where our people can truly thrive.
Our values exist as a framework to help us support and empower each other, because we know that when we feel accepted, included and happy at work, we can do and be our best.
As such, we welcome people who share these values and are as passionate about our mission, our workplace and our product as we are.