Northrop Grumman
Stand: B14 Gold Sponsor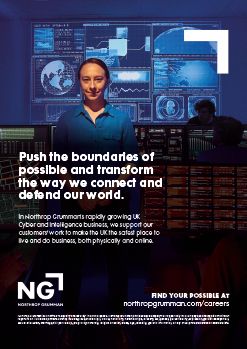 For our people, they are fulfilling a mission, not doing a job.
From engineering data and intelligence solutions, to developing maritime navigation and control systems, from delivering the RAF's vision of a future uncrewed aircraft to innovative command and control systems for the UK and NATO, what we do together matters.
Today, different thinking is needed to deliver the required defence and security effect. Northrop Grumman in the UK, and our people, are at the forefront of providing that different thinking. As pioneers, we welcome and encourage diversity of thought and different approaches to problem solving that will keep us at the cutting edge of technology vital to the security of the UK and its allies.
Every person at Northrop Grumman is valued for who they are and the unique perspectives they bring to our team. That means that everyone has a voice here, and it takes every one of us to make the impossible a reality. With us, you'll have the freedom to chase your ambition and the support to secure your future.
We operate across 10 sites in the UK, employing 2,500 people and sustaining employment for more than 5,000 in our supply chain and partners, including many SMEs. Looking for flexibility? At Northrop Grumman UK we have hybrid working arrangements. Talk to us at the application stage about what may be possible. You'll also have flexibility to balance your professional career with your personal life, health & wellbeing benefits, discount schemes, pension benefits and investment in your future development.